Once Upon a Time…in Hollywood (2019)
Director: Quentin Tarantino
Actors: Leonardo DiCaprio, Brad Pitt, Margot Robbie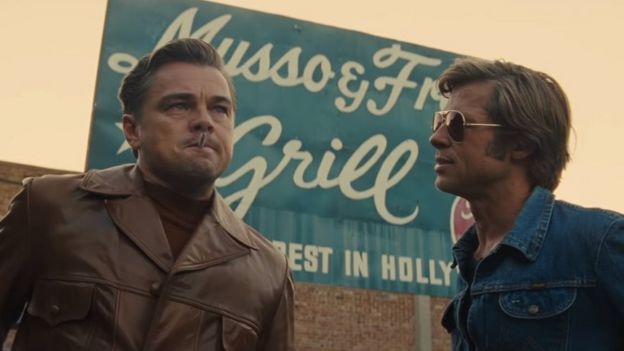 Synopsis: Hollywood on the eve of the 1970s. Washed up TV actor, Rick Dalton (Leonardo DiCaprio), is on a career downturn, resigned to playing bad guys in B movies or heading over to Italy to star in Spaghetti Westerns. His friend and stunt double, Clint (Brad Pitt), ambles around the fringes of Rick's life, and even gets drawn into some of the hippy antics around the city. Next door to Rick, live Roman Polanski and Sharon Tate (Margot Robbie), and one night in late August 1969, all these plot strands converge at the homes of Rick and Polanski.
Review: This rich, indulgent and ultra baggy film from Quentin Tarantino is almost impossible to qualify, as there are so many things at work in all its little fibres and sinews, and there are different meta-referential ways of receiving the film too. On an allegorical level, it's almost Tarantino's lament for the end of the old, boy's own Hollywood that he grew up on. Remember, right up until the end of the '60s, the western – both on TV and the big screen – was the prime storytelling staple, so there's a lot of resonance in the centring of the story around a faded TV cowboy star, slowly coming to terms with his own obsolescence as the very genre he works in becomes cannibalised or largely disappears.
The use of Sharon Tait as a literal and figurative cipher for this golden haze of glory is cleverly realised and tastefully done by Tarantino. There's a poignancy in the way Tarantino zeroes in on the tragic refuse of Tait's life, by having her as this prelapsarian figure of pure wonder. The tracking shot when she arrives at the Playboy Mansion party brilliantly encapsulates her dazzling ephemerality, and the scene where she shyly sneaks into a screening of her latest film to wander in awe at her own stardom and its reception by the unassumung punters, is a lovely touch too.
Giving Rick and Cliff a 'heroic' cowboy ending is a clever riff on the conceit utilised by Spike Jonze in Adaptation where the actual narrative takes on the tone and verve of one of the film's intra-stories. And having Rick meet Tait in the closing scene does almost seem to be a metaphorical transference of Tarantino himself to his inspirations of yesteryear. My only reservation about the much publicised ironic ending is less any offence at the violence depicted per se, just more that the violence itself is gratuitous and that the scene doesn't really work as humour or satire.
And therein lies my slight reservation with some aspects of Tarantino's work here. As ever with recent Tarantino, there are so many interest things going on in the corners of the film: his cinematography is excellent as it frames the neon allure of an interconnected Los Angeles through some brilliant shots of Brad Pitt's character driving around the city, and the films within films of Dalton on-set are, by and large, intelligent and illuminating. But there's still the sense that Tarantino is feeling for profundity and import in a barrage of long, wordy scenes that don't always cohere. I'd still take something like David Lynch's Mulholland Dr. as a more sophisticated attempt at what Tarantino is trying to do here, and Shane Black's underrated The Nice Guys as a more irreverent, humorous version. But that's not to denigrate what I feel is Tarantino's most interesting film since perhaps his early trio of near perfect crime tales. (August 2019)