Two Weeks Notice (2002)
Director: Marc Lawrence
Actors: Sandra Bullock, Hugh Grant, Alicia Witt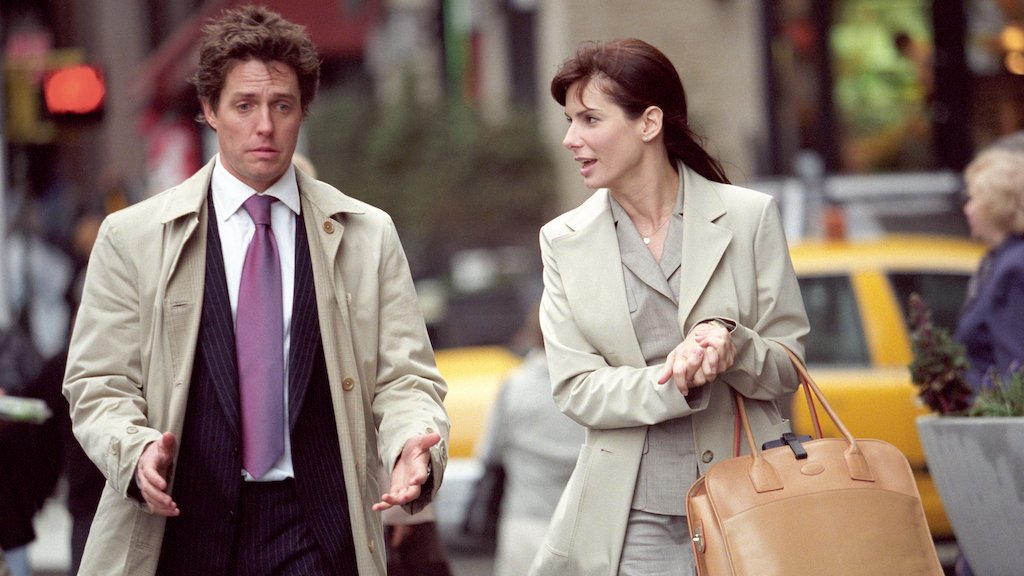 Synopsis: Against her better judgement, Lucy (Sandra Bullock), an ethically-minded lawyer, is convinced to work for the same billionaire developer, George (Hugh Grant), that has just tried to knock down her hometown's community centre. Unsurprisingly, tension and romantic sparks ensue.
Review: I'm not completely immune to the merits of even the most shameless of romantic comedies, and, certainly, Sandra Bullock and Hugh Grant are two of the names and faces that I'm more inclined to warm to than most of the actors that populate this ilk of movie. I say all this because I simply couldn't get on board with Two Weeks Notice. Its utter prototypicality is tiresome, and its weird plotting and characterisation preclude it from gaining the simplified 'happy' ending it proposes it has arrived at.
The usual rom-com confection of screwball scenes scored to incessant pop songs transmits less as crowd-pleasing alchemy and more as a desperate attempt to paper over the cracks of the mediocre scenario.
And this scenario – one with the time-worn trope of the heartless cad being won over by the principled woman (You've Got Mail has a loosely similar premise) – is fundamentally flawed. It is lenient on Hugh Grant's character as an object of our ultimate admiration, when he's been presented for the most part as intensely narcissistic, filthy rich, ideologically unattractive, and dim as hell. This makes the ending – that is predicated on our two opposite leads finding harmony and union – untenable in my book. To fast-track to some sort of equity, the film has the gall to give Grant's buffoon a monologue where he chastises Bullock's lawyer for being too principled and perfect. And weirdly, the film doesn't seem to counter that awful sentiment and leaves it unreproached, as evidently it realises for its rom-com formula to work, parity has to be restored. Best not make the male character such a creep the next time. (February 2022)