Sorry We Missed You
August 31, 2020
Sorry We Missed You (2019)
Director: Ken Loach
Actors: Kris Hitchen, Debbie Honeywood, Rhys Stone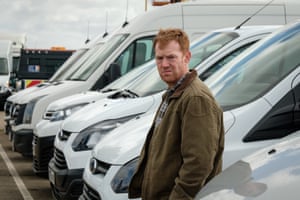 Synopsis: Ricky (Kris Hitchen) struggles to keep his family's financial status afloat while attempting a new career as a self-employed delivery driver. The rigours of the job combined with problems with his son make for a challenging few months for Ricky.
Review: Though poles apart in terms of milieu and subject matter, Ken Loach does actually bear some similarity with Woody Allen, especially in the trajectory of his career. Of course, Loach doesn't have the same controversy hanging over him as Allen does, but both are incredibly distinctive and prolific filmmakers, capable of churning out their small-scale productions on an annual basis. The increasing mediocrity and dramatic flimsiness of their recent output, however, betrays that, now well into their 80s, both men's best days are long since behind them.
As with Loach's previous film, I, Daniel Blake – a Palme d'Or winner, no less – he attempts with this latest work, Sorry We Missed You, to shed a light on contemporary socio-economic issues where the working man's dignity is blighted by the ruthlessness of the market economy (in this case, zero hours contracts and the perils of becoming a self-employed delivery driver). Sadly, as with I, Daniel Blake, while there's no questioning the worth and integrity of the message, the clumsiness of the drama and its crude didacticism, obscures the potential import and power of its politics.
Loach's commitment to verisimilitude and the casting of local, non-professional actors is one of the great successes of his style, but the weakness of the acting and writing here negates any potential upside to the practice, as – more often than not – scenes play out like poorly realised, kitchen sink pastiches by a local theatre company. It is the lack of subtlety in the film's politicking that is its greater flaw though. By all means, the victim thesis Loach conceives for his central character, Ricky, is absolutely necessary, but the soapy and increasingly farcical trajectory of misfortune and misery he sends Ricky on does stretch believability to its breaking point. At times, Sorry We Missed You bears more similarity to the soapy machinations of an EastEnders episode than it does a nuanced portrait of a working class man's travails and suffering.
There can be no denying the worth of Loach's impact on British cinema and social discourse over the last 50 years. His last couple of films though have perhaps revealed that time has caught up with the maestro and his practices, and that he'd be better off moving into a well-earned retirement, and so that he can be remembered for some of the unquestionably brilliant films he made in the early and middle part of his career. (August 2020)