Leave No Trace
August 12, 2020
Leave No Trace (2018)
Director: Debra Granik
Actors: Ben Foster, Thomasin McKenzie, Jeff Kober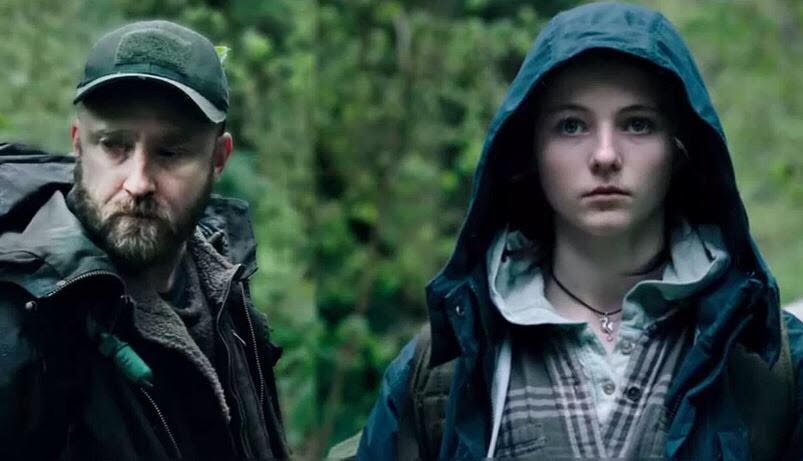 Synopsis: PTSD-suffering army veteran, Will (Ben Foster), lives off the land in a Portland forest with his teenage daughter, Tom (Thomasin McKenzie). They are apprehended by authorities and moved to an Oregon community where Will is put to work and Tom is sent to school, but Will's desire to return to a life away from people – and Tom's increasing need for more social interaction – creates a growing rift between them.
Review: Part eco-parable, part-thesis on parenting, and part-ode to the eternal bonds of love between a father and daughter, Leave No Trace is another directorial tour de force from Debra Granik – a filmmaker who instinctively knows how to counterbalance and alchemise the dramatic, cinematographic and anthropological ingredients of her fables so acutely. In fact, it wouldn't be hyperbole to propose Leave No Trace as one of the most sincere and tonally perfect of American films in recent history.
Granik's films are often marked out for their authenticity and sense of empathy for their marginalised protagonists, but arguably her greater skill is in her mastery of dramatic rhetoric. I would argue that this is an immensely profound and emotional film, yet Granik honours that import without resorting to the use of a melodramatic music score, without encouraging demonstrative character acting, and without ventriloquising the story's powerful themes in her adapted screenplay.
The opening to the film is particularly impressive, as we're thrust into Will and Tom's routine in their Oregon wilderness. The quietude and harmony of their lifestyle and the co-dependency of their relationship is subtly imprinted, and it's in the length of this montage or snapshot (some 20 minutes or so) that Granik communicates Will and Tom's oneness with their surroundings – the elemental nature of their routines around starting fires, fetching wood, and preparing food, conveying their state as this transient form of perfection at odds with the realities of the outside world and Tom's own growing maturity.
The shock and disruption to Will and Tom's gentle routine when they necessarily walk into the metropolis of Portland to purchase provisions is as much ours as it is theirs. The city looks unnatural and otherworldly, especially when they take a cable car ride across the city skyline, and Granik is able to cast this detached, anthropological perspective over other parts of the film. Primarily, this fits into the film's function as part eco-parable, with the concept of development and market values being anthropomorphised through machines that smash through the squatters' park in the Portland forest, and the helicopters that come to claim the commodified and wrapped up Christmas trees at Will and Tom's later farm residence.
It is perhaps the human drama that is most powerful in Leave No Trace though. Even in the opening, 'edenic' section, there are harbingers that allude to the fragility of Will and Tom's idyll: Tom continually remarks on her hunger, and the challenge in even lighting a fire and generating heat suggests that the lure of civilisation – particularly to a curious and untainted young girl like Tom – may soon prove irresistible.
This gradual rift between father and daughter is beautifully handled by Granik. There's no soapy conflict to inorganically draw out their eventual separation, just an acknowledgement that their generational difference and separate pathologies (Will is a PTSD-suffering veteran who wants no part in society, while Tom is an evenly-balanced, untraumatised teenager desperate for social interaction) will gradually engender a parting. That parting is the crowning glory of Granik's dramatic craft here. In a scene of such faultless authenticity and aching emotionality, Tom makes the immeasurably moving gesture of deciding not to follow her father on his latest escape into the wilderness. It's a triumph of quite brilliant acting from Ben Foster and Thomasin McKenzie, and the clever choreographic touch of Granik in making Tom walk backwards from her parting with her father (so, in a sense, she is still looking at him, braving and soaking up the profound decision she has just made) is the coup de grace of this most poignant of films. (August 2020)