Bacurau (2019)
Director: Kleber Mendonça Filho, Juliano Dornelles
Actors: Sônia Braga, Udo Kier, Bárbara Colen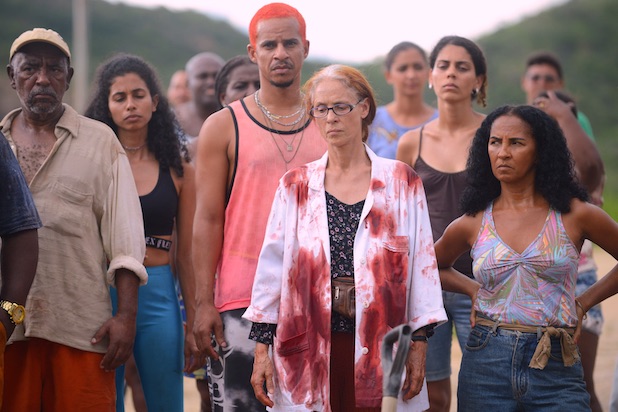 Synopsis: Residents in an isolated Brazilian rural village called Bacurau find themselves under increasing threat from a devious local mayor and a group of European-North American bounty hunters.
Review: This surreal, ultra-idiosyncratic follow up by Kleber Mendonça Filho (and Juliano Dornelles) to his exceptional Aquarius, sees something of his signature languorous style remain and it does function on some level as another tribute to traditional Brazilian values outsmarting the forces of imperialism and capitalism. All comparisons to Aquarius end there though, as this is a much stranger, almost genre-hopping oddity, whereas Aquarius was more of a familiar socio-historical piece.
I actually find some value in ascribing similarities – certainly in terms of content and politicking – between Mendonca Filho and the American indie master, John Sayles. Both are interested in the way that an individual and the community are shaped by history and capital forces. Of course, that comparison becomes something of a limited thesis, with Sayles being a conventional narrative stylist, while Mendonca Filho's aesthetic is much more in tune with its Brazilian subject matter: it is dreamier, sultrier and folkloric.
Perhaps the easiest part of the film to process is its final third where it takes a recognisable genre detour as the Euro-American invaders are gunned down by the locals in an ingenious showdown, but also because the film's function as an allegory for the malignancy of colonial/first world values becomes much more evident.
The opening stretches of the film have their pleasures too though. What may seem slow pacing is a way for Mendonca Filho and Dornelles to inscribe the pace and the interconnected air of the community of Bacurau on the audience. One lovely scene is when we get an insight into Domingas' ramshackle medical practice. Her first two cases are a naïve young girl complaining of nausea and headaches, only for Domingas to bluntly inform her what she has is a hangover, and then an older gentleman informing Domingas that he's been kicked out by his wife, so he asks if he can sleep a few hours on one of the vacant hospital beds to recover from a night on the street.
Overall, Bacurau is clever and amiable enough without making any real concessions in terms of conventional dramaturgy. It will certainly frustrate many western audiences looking for their three-dimensional character arcs and a greater shaping to the plot. Still, it does feature a sly little turn by dark European auteur, Udo Kier, as one of the nihilistic bounty hunters, and perhaps UK audiences may agree with me when I say he bears more than a passing resemblance to maverick British politician, George Galloway! (April 2020)