Casino (1995)
Director: Martin Scorsese
Actors: Robert De Niro, Sharon Stone, Joe Pesci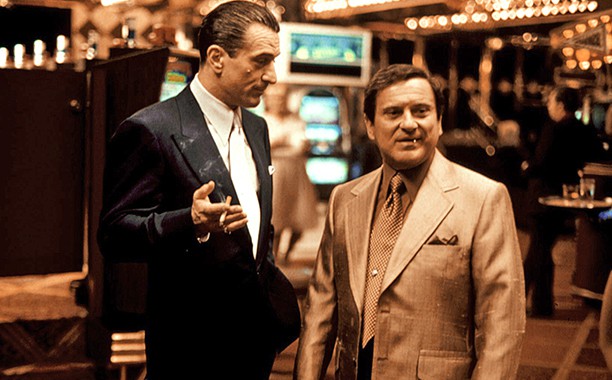 Synopsis: Sam 'Ace' Rothstein (Robert De Niro) recounts the 'rise and fall' story of his involvement with the mob-sponsored Las Vegas hotel and casino, Tangiers.
Review: Casino is essentially a variation on the subject matter and aesthetic Martin Scorsese executed to such brilliant effect in his marginally superior gangster film, Goodfellas. Even by Scorsese's standards though, Casino has to be one of his most virtuoso and hyperactive pieces of work – and perhaps that's in keeping with a narrative that is all about the inspiration of Sin City, and the rogue's gallery of eccentric high-rollers and lowlifes who wind up there.
It's an absolutely dazzling (and dizzying) portmanteau narrative, that is glued together by two competing voiceovers from Jewish straight-man and 'details' person, Sam Rothstein, and his boyhood friend and volatile Mafia minder, Nicky Santoro. Not only that but Scorsese's roving camerawork and epic tracking shots, essayed so famously in Goodfellas, is made an almost continuous feature of this film, and the whole narrative is perpetually underscored by a flurry of '50s and '60s pop songs. It conveys the almost narcotic rush of Sam and Nicky's rise to power, but also signposts their downfall too.
Scorsese's skill at creating a sense of brevity amid such a kaleidoscopic canvas commands respect, though there is just the nagging sense that he's running through something of a formula here. Sam's wife, Ginger McKenna, as Sam and Nicky's 'achilles heel' is a slightly telegraphed plot hook. That said, the performance by Sharon Stone, and, indeed, the two main actors, Robert De Niro and Joe Pesci, anchors the film throughout. In particular, this is a really classy and underrated performance by De Niro. The scene where his character takes Ginger back for the second time and delivers a measured, but chilling, monologue to her in a Vegas restaurant is a masterclass by De Niro, and a reminder that before he was about to embark on a phase in his career where he was content to spoof his characters' psychopathic tendencies, no one could do it as authentically as he did here. (October 2019)