In the White City
March 31, 2019
In the White City (1983)
Director: Alain Tanner
Actors: Bruno Ganz, Teresa Madruga, Julia Vonderlinn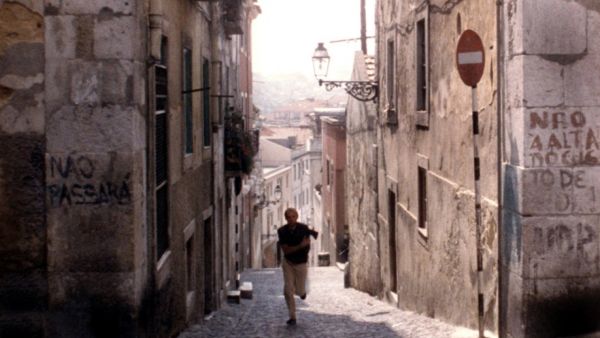 Synopsis: An itinerant naval worker, Paul (Bruno Ganz), pitches up in Lisbon. He determines to stay just for a few days, but winds up spending listless weeks in the city. There, he conducts an affair with a hotel worker, Rosa (Teresa Madruga), while engaging in various activities – many of them nocturnal – around the city. He also sends Super 8 recordings of his time in Lisbon to a woman in a far-off northern European city.
Review: Lodged in a certain Anglo-American cinematic consciousness is an idea of Bruno Ganz that is irremovable from his portrayal of Adolf Hitler in Oliver Hirschbiegel's Downfall (2004). This diminution of Ganz was betrayed by a subsequent generation of casting directors shoehorning him into august or doctrinaire cameos. The irony is that this narrow conception of Ganz could not be further from the multi-faceted and ambiguous presence he affected over a swathe of European films, particularly in the 1970s and '80s. Ganz was a seminal icon of this era's cinema of alienation and ennui, and he met his match with what was, significantly, a fellow Swiss, Alain Tanner, in the Lisbon-set In the White City (1983).
Tanner, like Ganz, was something of a European nomad. Tanner started out making his first short film, Nice Time (1957), through the British Film Institute. Thereafter, he briefly associated with some of the key French New Wave figures of the early 1960s before returning to Switzerland and releasing his debut feature film, Charles, Dead or Alive in 1969. By the time of In the White City, Tanner had a bank of critically acclaimed films behind him – most noticeably The Salamander (1971) – and In the White City became the prime example of his ingenious ability to weave his philosophical concerns into the aesthetic of his films.
The film, as spare as its narrative is, depicts a naval worker, Paul (Ganz), pitching up in Lisbon after his latest job, and impulsively deciding to extend his stay in the 'white city'. The relative blank canvas of the scenario afforded Tanner the ability to craft a deceptively rich psychogeographical film. One that is, at once, an interrogation of the appeal and limitations of living a life entirely on impulse, while also offering a compelling study of the stimulating and alienating dichotomy of the city.
Tanner's opening sequence sensualises some of these dualities expertly. We are thrust sensorially into the oppressive confines of Paul's job in the ship's engine room: a floating, satanic mill of metal and sweat. This contrasts profoundly with Paul's receiving of the undulating white canvas of Lisbon as he passes along the River Tagus: a new dominion of possibility and escape. Sensualising Paul's submission to the allure of Lisbon is Tanner's employment of a Super 8 camera, both dramaturgically and diegetically. Tanner shifts frequently, and in momentary flashes, from the conventional diegetic frame to that of the perspective of Paul's Super 8 camera. Paul's Kodachrome missives then get packaged up and sent to an unnamed woman (presumably his wife) who receives them in a tonally opposite, unidentified European city. Whether the purpose of these short films is to openly taunt the woman, or are merely attempts to articulate Paul's search for meaning, they embody his overall sense of dislocation.
The sweep of Paul's initial delight in following the scent of his agency – best exemplified by a staggering cut from Paul's impetuous jump onto one of Lisbon's steepling tram rides to the rapturous Super 8 perspective of that journey – soon becomes a descent into decadence and dissatisfaction. His Raskolnikovian quest to apprehend the thief of his wallet leads to a near-fatal stab wound, and the barmaid he conducts an affair with disappears without warning.
An especially wry scene that marks Paul's listlessness is when he gets drunk in a bar watching the Brazil-Italy 1982 World Cup encounter. There is the sense that Paul is co-opting this communal gathering of men in the desperate attempt to make some sort of connection, so he starts baying inauthentically at the television screen. Cut to a couple of hours later, and Paul is stumbling idly down a deserted street, kicking an empty drink can, before chancing upon a dilapidated little side bar featuring older, genteel Lisbon residents engaging in a game of what looks like dominoes. For a few moments, Tanner's camera frames Paul from afar, as he awkwardly tries to pull up a chair amid this closed circle of men. Paul intrudes upon their quietude with frantic, incoherent ramblings in English and French about the football match. Interestingly, it is thematically significant that the one language Paul does not command is the very language native to the people whose city he is in – Portuguese. As Paul's redundancy to the scene becomes concrete, Jean-Luc Barbier's jazz score – once an emblem of Paul's boundless freedom – scores a more sombre tone, and Tanner cuts to Paul, waking up in his hotel room some hours later. This crystallisation of Paul's ever-decreasing journey into his heart of darkness – a world away from the once-perceived inspiration of Lisbon's 'white city' – is encapsulated by Paul throwing a bottle of booze at the mirror in his room. This mangled mirror functioning as an eloquent closing metaphor from Tanner on this most intelligent of theses on the bittersweet mitigations of romanticising existentialist ideology. (February 2019)