Wes Anderson Films Ranked
April 2, 2018
Having just seen Isle of Dogs, I thought it an opportune moment to place Wes Anderson's films in rank order. As ever with my directorial rankings, it's a subjective mish-mash of "favourite" and "best". I've included Anderson's short film at the beginning of The Darjeeling Limited – Hotel Chevalier – to bring it up to a round ten.
It's also worth nothing that, more than any other director I can think of, Anderson's work is so utterly an exhibition of his own method and predilections, that there isn't really a huge gap between his 'best' and 'weakest' work as specified below – the works to some extent are variants on each other and interchangeable. You could throw a blanket over this top 10 and re-jig the order of a few, and it wouldn't be hugely unfair.
10. Fantastic Mr Fox (2009)
Something had to be #10, and I'd still take Fantastic Mr Fox over 95% of all the other animated fare out there. It's also clear that the transference of Anderson's fastidious visual sensibility to stop-motion animation is sincere and an unqualified success. And yet, no matter how much you try to gloss it over, Anderson does still wind up supping from the same cutesy imperative of most animated movies that centre their conceit around anthropomorphising animals, monsters or aliens. It's just funnier than usual seeing the very human, mordant sensibility of Anderson realised in foxes!
Full Review: https://pnabarro.wordpress.com/2010/08/30/fantastic-mr-fox/
9. The Life Aquatic with Steve Zissou (2004)
The Life Aquatic never really breaks free from its conceptual origins – perhaps betrayed by the best bits of the film being the non-storytelling parts (the tracking shot through the Belafonte ship; Seu Jorge's Bowie ditties; the delightful closing submarine ride). That said, it's a film that's impossible not to like because of its idiosyncrasies and sheer zaniness, and it battles The Grand Budapest Hotel and Isle of Dogs for the title of Anderson's most beautifully designed piece of work.
Full review: https://pnabarro.wordpress.com/2010/09/05/the-life-aquatic-with-steve-zissou/
8. Hotel Chevalier (2007)
It's a bit of cheat to include this, as the work is sort of a one with The Darjeeling Limited. However, its relevance is as testament to Anderson's skill as a narrative structuralist. Particularly with The Darjeeling Limited, Anderson was going through a very experimental phrase in terms of mixing up his chronologies, manufacturing stories-within-stories, as well as obviously this short film which acted as a crucial informant to one of the characters in the main film. Its cinematography, design and iconic use of a '60s pop tune was also classic Anderson.
7. Isle of Dogs (2018)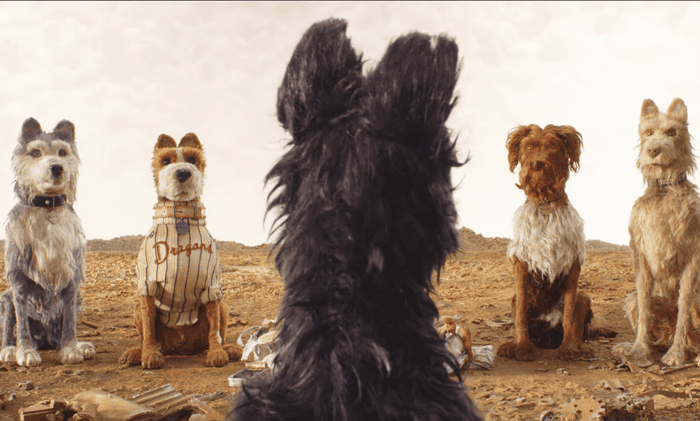 The narrative is pretty arbitrary, the Japanese and dystopian setting does seem to exist solely to sate Anderson's pop cultural proclivities, and there is still the upmarket "cute" effect of anthropomorphised animals à la Fantastic Mr Fox. And yet – this is an absolutely stunning work of art. I could watch this time and time again just for the beautiful and ingenious animation. A work of staggering creativity.
Full review: https://pnabarro.wordpress.com/2018/04/02/isle-of-dogs/
6. Moonrise Kingdom (2012)
Definitely one of Anderson's sweetest films, and one where he flipped his usual focus on emotionally-stunted adults to characterise the pastoral rebellion of two earnest teenagers looking to take on the rituals of the adult world. This would probably rank higher if there wasn't the nagging sense that beyond the delightful concept of the island and the seeds of the child rebellion, Anderson doesn't show as much interest in furthering that narrative set up.
Full review: https://pnabarro.wordpress.com/2013/09/04/moonrise-kingdom/
5. Bottle Rocket (1996)
Although only Anderson's freshman work and it lacking the starry cast and deluxe design concept of most of his later films, this is right up there as one of his better efforts for any number of reasons. There's a real pathos and whimsy in its story of hapless, smalltown dreamers trying to strike it rich, and it was the first time that the formidable Wilson brothers were released on the movie world. It's funny to see Owen Wilson's reasonably colonised position now as part of the Hollywood set, and to reflect on how this wry, eccentric talent would have seemed anything but mainstream 20 years ago in Bottle Rocket.
Full review: https://pnabarro.wordpress.com/2010/08/24/bottle-rocket/
4. The Darjeeling Limited (2007)
Unquestionably one of Anderson's funniest films – the slapstick here is sublime – and it's arguably one of his more affecting narratives too. I know the work's come in for criticism for supposedly being a shallow, hipster depiction of an Indian spiritual vacation – but I thought that was entirely the point; it's essentially a pastiche. The brothers' first world narcissism is slyly juxtaposed to the throng of Indian life that slowly imprints itself on them despite their best attempts to disregard it. It reminded me of a 6-month trip I did round South America a few years ago. As a European, you go with the best of intentions, but there will always be a distance between the earnestness of those intentions and the end-result of your (in)ability to fully exist in the meaning of what that different continent and life experience has to offer.
Full review: https://pnabarro.wordpress.com/2010/08/25/the-darjeeling-limited/
3. The Grand Budapest Hotel (2014)
"I think his world had vanished long before he entered it – but I will say: he certainly sustained the illusion with a marvellous grace!" The ageing Zero's closing tribute to his memories of his mentor Gustave H could stand as postscript for the sensibility of the entire film – one of the richest and most eloquent comedies I think I've ever seen. It's also a thing of visual, but also narrative, beauty. I only really appreciated the skill of the storytelling and the brilliance of its framing devices on a second viewing. This could easily be Anderson's finest work, it's just perhaps not my 'favourite'…
Full review: https://pnabarro.wordpress.com/2016/04/16/the-grand-budapest-hotel/
2. The Royal Tenenbaums (2001)
A dazzling narrative matched by what may be Anderson's most virtuoso visual work – especially in respects of cinematography. Anderson's work's perpetual undertow of nostalgia and grandiose sense of loss never felt more justified than here, and it's also one of my favourite all-time cinematic ensembles. Each of the following actors give one of their best ever performances: Gene Hackman, Ben Stiller, Luke Wilson, Owen Wilson, Bill Murray, Gwyneth Paltrow, Anjelica Huston…
https://pnabarro.wordpress.com/2014/04/12/royaltenenbaums/
1.Rushmore (1998)
Perhaps Anderson's clearest mandate for his own cinematic sensibility: it features the style that he would go on to repackage for each subsequent film, and its protagonist is the one that perhaps most represents his own irrepressible, ingenious spirit. There are so many immemorial skits and scenes here: my two favourites being Bill Murray's character's diving board non-epiphany, and Max Fischer (a great performance by Jason Schwartzman) and his dementedly ambitious school play productions.
Full review: https://pnabarro.wordpress.com/2011/03/28/rushmore/
(April 2018)