Moonlight (2016)
Director: Barry Jenkins
Actors: Alex Hibbert, Ashton Sanders, Trevante Rhodes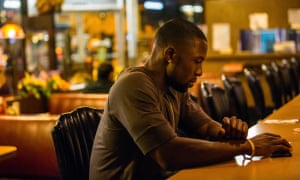 Synopsis: A snapshot of Chiron (Alex Hibbert, Ashton Sanders, Trevante Rhodes) as he goes through three stages of his life from child to adult. In particular, how he begins to reconcile feelings about his own sexuality and identity.
Review: There's a lot to admire in Moonlight. Films shouldn't be judged on their socio-political content alone, but naturally, Moonlight's relative novelty as a piece on working class black male identity in the US (especially with the additional undertow of the main character beginning to conscience possible homosexual feelings) commands interest. In fact, this notion of making an aesthetic out of black male culture is probably Moonlight's prime triumph. It finds a watchful, plaintive ambience for documenting the legacy of machismo and problematic identity politics at the heart of young black male culture. One of my colleagues at One Room With a View put it very well with their piece on the performativity of masculinity and clearly a lot of work was done in making the three actors who play Chiron – Alex Hibbert, Ashton Sanders and Trevante Rhodes – all develop a core solemnity and inner pain that is so key to understanding their journey.
Unfortunately, around that compelling character interiority, the additional tapestry of Moonlight is much less convincing. The aesthetic is lovely, but the dramaturgy is extremely didactic. Having the mother buy drugs from the father figure is too convenient, and is a dialectic stolen from a loosely similar – but superior – story about a young African-American coming of age, Ryan Fleck's Half Nelson. Also, the use of Tomas Mendez Sosa's "Cucurrucucu paloma" to inflect some pathos was a clear sign of Barry Jenkins pilfering other arthouse films (Wong's Happy Together and Almodóvar's Talk to Her spring to mind) for their tropes, and some of his filmmaking – distorted lenses, light reflections – betrays that too.
Outside of Chiron the character (and the actors playing him), some of the other performances and casting jarred – particularly Naomie Harris as Chiron's supposedly druggy mother. Even though she had a crack a decade earlier in Miami Vice, her Miami accent is so inauthentic. Her opening gambits of "and who is you?" and "you gots to come home" stood out like a sore thumb, and just generally, against the naturalism of the Chiron actors, Harris' method grandstanding seemed totally inappropriate. Dare I say, it's almost a case of stealth racism. It would be like casting Rosamund Pike as the Ozarks mother in Debra Granik's Winter's Bone, but just because we see Harris as black, we don't see the need to probe further into the specificity of the character's ethnicity, dialect and culture – there are many variants in the African-American community as there are in any other race. A look at Claire Denis' stellar work in France – namely, 35 Shots of Rum, is a good reference point here.
It's almost as if Harris is emblem for Jenkins' uneasy attempt to meld together various commercial, aesthetic and socio-political considerations. If not always entirely successful, at least he tried, and there are some really fine moments that do elevate Moonlight. (June 2017)