Paterson (2016)
Director: Jim Jarmusch
Actors: Adam Driver, Golshifteh Farahani, Barry Shabaka Henley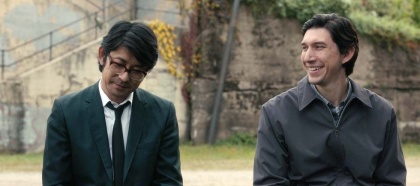 Synopsis: A week in the life of a bus driver (Adam Driver) in Paterson, New Jersey as he goes about his regular routine of waking up with his wife, driving buses around the city, taking his dog for a walk, dropping in on the local bar and writing poems.
Review: Jim Jarmusch's minimalist, sometimes gallows, approach to his subject matter has borne mixed results down the years. At its worst, his work can be overly distancing and affected; at its best – as here – he is able to tap into a certain temporal and existential 'truth' about the properties of life and human nature.
With Paterson, there are all the familiar Jarmuschian tropes: the recurring, almost American Gothic, framing shot of Paterson's humdrum home as he exits and returns from his working day (there's a sly running gag about the dilapidated post box that is continually leaning over), and there's the clear proclivity to allow the narrative to meander and bypass the usual conflict and resolution paradigms.
What's beautiful about Paterson is that Jarmusch perfectly mainlines the deceptively deep emotional core to his subject matter. It's almost a thesis on the pleasures of simplicity, quietude, detachment and a form of solipsism (though Paterson does share a gentle, loving relationship with his eccentric but largely housebound wife). Paterson's life is resolutely not mundane or unfulfilling to him – his only 'awakening' or change coming from the closest this film has to a moment of drama, when Paterson's emotional attachment to his own book of poems is 'sabotaged'.
For a film about poetry, Jarmusch is able to use many different techniques to convey that ethos. There's obviously the meta-referential link to great modernist poet, William Carlos Williams, who actually hailed for Paterson, NJ – and this is a continual reference point throughout the narrative. There's also Paterson himself, through voiceover plus Jarmusch's intertitles, reading his own poems aloud. And finally, Jarmusch enables the medium of film to acquire the abstraction of poetry through expressionistic fades and the exclusion of sound to transmit how the canvas of Paterson's daily routine nourishes his poetic sensibility. (May 2017)