All Over the Town
April 11, 2017
All Over the Town (1949)
Director: Derek N. Twist
Actors: Norman Wooland, Sarah Churchill, Cyril Cusack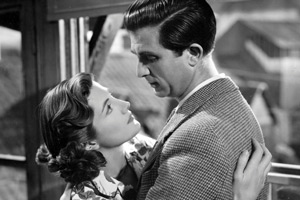 Synopsis: Nat Hearn (Norman Wooland) returns to his provincial hometown of Tormouth after serving during the Second World War. He resumes his job on the local paper, and quickly realises his newfound liberal perspective is at odds with the conservatism and vested interests of many in the local community.
Review: There's nothing especially revelatory about this sweet little British studio film from the late 1940s, however those with an interest in the social history of Lyme Regis (which has been converted into the fictional town of "Tormouth") and a fondness for the Ealing comedy brand of light farce will find this diverting.
Director Derek Twist does an exemplary job of honouring the film's very title – "All Over the Town" – and overall conceit of ex-serviceman, Nat, returning to the homefront, and realising everything he fought for isn't translating to the increasingly staid town he grew up in. The opening section where Nat walks down the main high street and reconnects with the townsfolk buzzes with vivacity as well as being a sage way of introducing all the dramatic personnel.
Although there is an inherent industrialism and predictability about the film's narrative cogs, its commentary on provincial social politics immediately post-war is interesting. The send-up of the pomposity of the townsfolk with their risible am-dram theatre production is brilliant, and the performance of Cyril Cusack as the terribly cowardly and timid newspaper magnate, Gerald, is a real pleasure. (April 2017)