My Top 6 Scary Movies
October 31, 2014
To honour the arrival of Halloween, I've cast my mind back to half a dozen movies that have scared me no end. Note – they aren't all necessarily horror movies in the sense that they fit snugly into that genre, more that they carry all the qualities of a good scary film – they're disturbing and visually distinctive.
Great Expectations (1946)
The Gothic, 'spooky' potential in Charles Dickens' seminal Victorian parable found exactly the right canvas in David Lean's gorgeous 1946 adaptation (incidentally, this is easily my favourite Lean film). Guy Green's gorgeous black and white photography helped, but Lean got everything right – from the eerily atmospheric opening scene of Magwitch and Pip in the church graveyard, to Miss Havisham's baroque, dilapidated mansion (Lean even cast a very similar looking Miss Havisham and Estella to suggest the younger's sinister morphing into the elder), and one of the great 'pathetic fallacy' sequences where the return of Magwitch is augured by a bleak wind burrowing through the slate grey skies of Victorian London.
Throne of Blood (1957)
Macbeth is one of the great horror stories, not just in the obvious (the witches and supernatural content) but in its profoundly dark depiction of how the seed of butchery and nihilism insidiously takes hold in such a seemingly upright citizen. Although Throne of Blood is a very loose re-working of Macbeth, it captures the terror of the story perfectly. Again, like with Great Expectations, black and white photography seems to lend a visual clarity to the depictions of horror, and Akira Kurosawa's abstract conception of Lady Washizu (the nominal Lady Macbeth) emerging/descending into black-hued abysses is mesmeric image-making.
Don't Look Now (1973)
I watched this film alone and relatively unsuspectingly while a student, and, not surprisingly, I didn't sleep a wink that night! It's a profoundly disturbing film, brilliantly made (in fact, it transcends its horror trappings to be comfortably one of the best ever British films), and it's a great essay on the nature of 'looking' and the perils of living in denial and repressing one's grief.
The Sixth Sense (1999)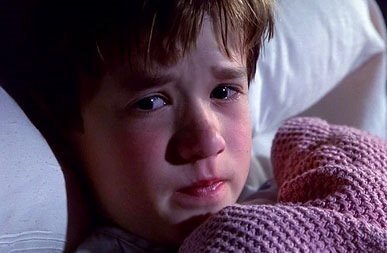 I'm probably in an extreme minority here, helped by the fact that M. Night Shyamalan's career nosedived spectacularly from this point onwards, but I think The Sixth Sense is one of the most proficient, impressive pieces of classical Hollywood storytelling of the last decade or two. Yes, it doesn't have the transcendentally dark undertones of some of the other films selected here, and yes, it gets a tad sentimental toward the end, but its perfectly mined air of uncanny, spine-tingling mystery is sustained expertly throughout, and I don't care what anyone else says – the twist at the end is bravura filmmaking.
Inland Empire (2006)
David Lynch has mined the "freak show", sinister potential of Hollywood better than any other filmmaker. Mulholland Drive would be a suitable addition to this list, but probably in terms of pure horror and its dystopian depiction of the Hollywood machine, I'd have to go for his Inland Empire  – probably the biggest head-scramble of a movie (in a good, genius way) that I've seen.
Under the Skin (2014)
If you haven't seen this film yet – then I urge you to: it's brilliant. It's a staggering, subversive mind-f*ck that belies any conclusive, empirical analysis. However, let me at least try….It's a haunting depiction of how – if you saw this world with alien eyes – our landscape and social behaviour would seem very strange and cold. It's also a gallows depiction of male sexuality, and features some sequences that are as genuinely scary as anything I've seen in the movies for the last few years.