My Top 10 Actors of All-Time
February 14, 2014
I did a piece on my favourite movie actresses a while back, so to redress the balance, I've finally got round to doing my best actor list. I could have done a top 50 in all honesty, so in the end I've settled on a top 10, with a suspiciously large 'honourable mention' category underneath to cover me! There is absolutely no critical paradigm to this at all: I'm not the most well-watched cinephile by a long-shot, I've not bothered too much about being inclusive in terms of age, nationality or genre – this is just a highly personal and subjective list, cobbled together from my memories….To preclude any accusation of preference, I've listed them in age order:
Ramon Novarro
For silent movies, I could easily have gone with Buster Keaton or Charlie Chaplin (but first and foremost they were formidable filmmakers), or any of the great early horror movie stars. Instead, I like the little I've seen of Ramon Novarro – the first great Latin American actor to make it in Hollywood (and incidentally he bears exactly the same name as my grandfather if you substitute the first vowel of the surname for an 'a')! He was the thinking man's Valentino – beautiful, photogenic, melodramatic, and his career transitioned successfully enough from the silents to the talkies. He also acted as romantic foil for a succession of great leading ladies – Norma Shearer, Joan Crawford and Greta Garbo etc.
Humphrey Bogart
A few years back, when I played Sunday league football, I had a habit of giving my name as "Humphrey Bogart" whenever I got booked by the referee. I did this because it's one of the most distinctive, evocative and unmistakable names in western culture, but I figured on the philistine refs not being in on the reference. How can you not know who Humphrey Bogart is? To me, his voice, his face and his laconic persona almost is the golden age of Hollywood in the 1940s. We all know about Casablanca, but he was unbelievable in The Big Sleep and To Have and Have Not, and perhaps at his greatest in John Huston's gem The Maltese Falcon – alongside other greats such as Peter Lorre and Sydney Greenstreet.
Alec Guinness
Yes, he may be a very theatrical character actor, but I had to have at least one Brit on my list, and his cinematic career was so varied and colourful, and he cropped up in iconic roles across five decades of cinema. He's probably most readily recognisable as David Lean's 'go-to' man in his big Hollywood productions (think Bridge Over the River Kwai, Lawrence of Arabia, A Passage to India), but his best work with Lean was in his two Dickens' adaptations – Oliver Twist and Great Expectations (his Herbert Pocket in Great Expectations being a particular personal favourite of mine, as I played Herbert myself in a remarkable theatre production!) Alec Guinness, to me, is also the face of Ealing Comedy, marvellous with his false teeth in The Ladykillers, but perhaps turning in his greatest performance bar none as all members of the doomed D'Ascoyne clan in the superb 'comedy' Kind Hearts and Coronets (think a Wes Anderson film but with a British literary sensibility, filmed 70 years ago). Guinness even lent gravitas to the original Star Wars trilogy, before George Lucas thought to update his prequel trilogy with dull-as-ditchwater juvenile actors and crap CGI.
Gene Hackman
Recently I was watching the thoroughly entertaining (if utterly disposable) John Grisham courtroom thriller, Runaway Jury. By far the best thing in it was Gene Hackman – on absolutely cracking form as a vile jury-fixer. It got me thinking about how I'd missed Hackman in recent years, and when I googled his name, I found out he'd retired – but how typical of Hackman to bow out quietly than with a bang. In directorial speak, there's the term metteur en scène for filmmakers who are more seen as grizzled old-pros rather than auteurs, and Hackman was the acting equivalent of this (Tommy Lee Jones is another good example too). He may have been in roughly the same generation of actors as the more conventionally starry Robert Redford, Dustin Hoffman and Warren Beatty, but he was arguably the best of the lot. His name in the title credits was always a sure sign of reliable class in the many genre flicks he took part in, but Hackman in his own right, starred in and made distinctive some of the best American films over a 40+ year period: The French Connection, Scarecrow, The Conversation, Unforgiven and The Royal Tenenbaums to name but a few.
Anatoly Solonitsyn
A few years ago, I wrote my Master's thesis on the films of Andrei Tarkovsky (don't ask), so for most of that summer I was haunted by the sights and sounds of Tarkovsky's epic, colossal, pulverising body of work on loop on the DVD player in my tiny box room in Chalk Farm. I'd fall asleep then wake up to the baroque tones of Bach's Choral Prelude in F Minor, or more often, the strange, highly cerebral musings of Tarkovsky's preferred actor of choice – the quite brilliant Anatoly Solonitsyn. Solonitsyn was the living embodiment – the personification, if you like – of Tarkovsky's grace and intellect. His sinewy face and his nasal, inquiring voice are unmistakable, and though his turn as the troubled Dr Sartorius in the pitch-perfect Solaris is amazing, his monologues and quotes as Writer in Stalker are immemorial and mesmeric.
Jack Nicholson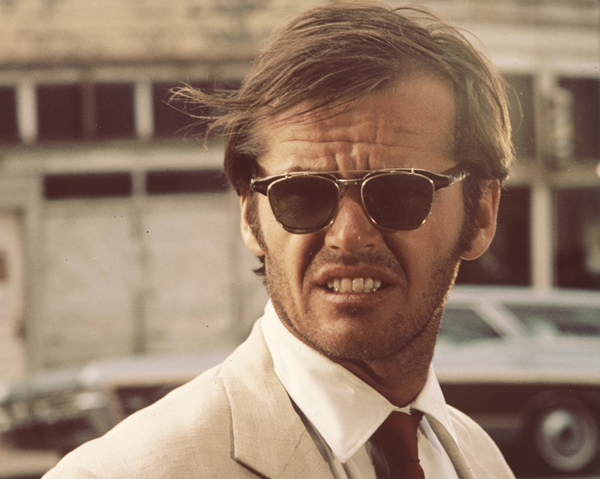 Forget about the myth of 'Panto Jack'. This guy really could act, and I admire him because he was never a matinee idol nor an overnight success: he laboured in a series of bit parts through the sixties, before finally getting his break as probably the best thing about Dennis Hopper's cult ode to hippydom, Easy Rider. He really stretched himself in the seventies, doing what very few celebrated American actors have done before or since by picking out complex, artsy, non-commercial work from top European auteurs (The Passenger – Antonioni, Chinatown – Polanski, One Flew over the Cuckoo's Nest  – Forman) and some interesting American-directed films too (Five Easy Pieces and The King of Marvin Gardens spring to mind). Even The Shining, a really strange work that is essentially a beautifully filmed load of old tosh, benefitted from Nicholson's maverick persona, and though admittedly since then he's seemingly coasted on the public perception of his lupine charisma and 'ladies man' ways, he's still an immensely enjoyable actor to watch coasting, and I felt he deserved greater respect for a more nuanced performance in Scorsese's The Departed than many commentators gave him credit for.
Al Pacino
It needn't necessarily come down to a decision between Al Pacino and Robert De Niro, but I decided to present myself with that dilemma anyway. On a certain level, their career arcs invite tendentious comparison: they're practically the same age, both Italian-American, made their name in some cracking pieces of seminal seventies American cinema (check the respective filmographies to see the incredible films pile up), and their careers even inter-crossed very symbolically in The Godfather: Part II and 20 years later in Heat. In many ways Heat acted as a watershed – probably on the seventies alone, I'd argue De Niro pipped Pacino (his Taxi Driver is quite probably the greatest single piece of movie acting I've ever seen), but De Niro never grew into an interesting middle-aged actor, where as Pacino continued to get better – he's an underrated comedian (think Dog Day Afternoon and Glengarry Glen Ross), a mean classical actor (think Looking for Richard and The Merchant of Venice), and he has appeared in some of the best American movies of the last dozen years or so: Donnie Brasco, The Insider, Gigli (spot the odd one out….)
Ricardo Darín
Perhaps my favourite contemporary film actor, Darín is at the cutting edge of some of the best cinema coming out of one of the most underrated movie nations on the planet – Argentina. He has a suitably lived-in and characterful face and persona (something you rarely find in the American movie actors of a similar age), but that doesn't stop him from coming across as somehow immensely handsome, charismatic and innately interesting. He's also remarkably versatile – going from a venal, guerrilla injury lawyer in one Pablo Trapero film (Carancho) to a caring, peaceable priest in the next (White Elephant) without odiously demonstrating the transformation.
Toni Servillo
A bit with my liking of Irène Jacob in the actress category, I confess to basing this selection of Toni Servillo on relatively little evidence and on his magical association with one great filmmaker alone, in this case Paolo Sorrentino. There's something about the immediately opaque, but ultimately quite open, persona of Servillo that gets at the heart of Sorrentino's majestic, labyrinthine pieces. He was gripping in The Consequences of Love, riotously straight-faced in the Giulio Andreotti farce Il Divo, and a magnificent, moving conduit through Sorrentino's masterpiece The Great Beauty.
Leonardo DiCaprio
Probably of all the contemporary Hollywood actors, Leonardo DiCaprio is the one that stands out – and not so much through being the most talented (which he probably isn't), but because I respect his career trajectory the most. He's always been willing to improve; he's become a gradually better and more interesting actor with age; and he's always been keen to work with the most challenging directors in the industry rather than coasting on a diet of rom-coms and star vehicles that undoubtedly he could have done in the wake of Titanic. He's obviously well noted for his collaborations with Martin Scorsese; he was highly moving in Christopher Nolan's epic Inception; he seemed to coax the best recent work from seemingly past-it veteran Hollywood legends Steven Spielberg and Clint Eastwood (Catch Me if You Can and J. Edgar respectively); and in Baz Luhrmann's patchy The Great Gatsby, he offered a compelling portrayal of the great American literary character, Jay Gatsby, that I struggle to imagine any other actor pulling off.
Honourable Mentions
As mentioned earlier, it's hard to leave Robert De Niro off the list, as I grew up on those immortal performances in Scorsese films à la Mean Streets, Taxi Driver and The King of Comedy et al. Controversial here, but I actually think Tom Cruise is a top, top actor – a stellar character actor in denial, and whenever he has teamed up with a director of note like Michael Mann (Collateral) and Paul Thomas Anderson (Magnolia), he has shown his range (he's an underrated comedian), but in direct comparison to Leonardo DiCaprio, he seems content to idle on a series of dull and industrial star vehicles. Austrian actor Bruno Ganz has been around for years – and long before his amazing portrayal of Hitler in Downfall, he mesmerised me in Alain Tanner's In the White City. Sean Connery for his portrayal of James Bond alone should be on this list. Donald Sutherland was in a series of great films in the Seventies and early Eighties – Don't Look Now, Klute, Casanova, Ordinary People (exceptional) – and since then, he's always an enjoyable presence in the fringes of hammy Hollywood genre flicks. Tony Leung has one of the great faces of modern cinema. So hangdog, so melancholic, and his work with Wong-Kar Wai and in Infernal Affairs is among some of the best acting I've seen in the last decade or so. As you see, I'm not much of a luvvie-worshipper, and I'm not hugely interested in fawning at the 'method' actors and those who succeed at "being other than oneself" (the great fallacy of good acting). An actor therefore I like is Michael Douglas. Even in more atypical character roles like Grady Tripp in Wonder Boys or Liberace in Behind the Candelabra there's a warmth and undemonstrativeness about him, and as Roger Ebert said about why his style suited thrillers and hokum genre material so much: "he is subtle enough that he never arrives at an emotional plateau before the film does, and never overplays the process of his inner change". The list goes on: Peter Lorre, Max von Sydow, Christopher Plummer, Anthony Hopkins, Joaquin Phoenix – here's hoping that those that are still around have a few more great performances in them yet….(February 2014)